6 burning questions about electric car home chargers answered!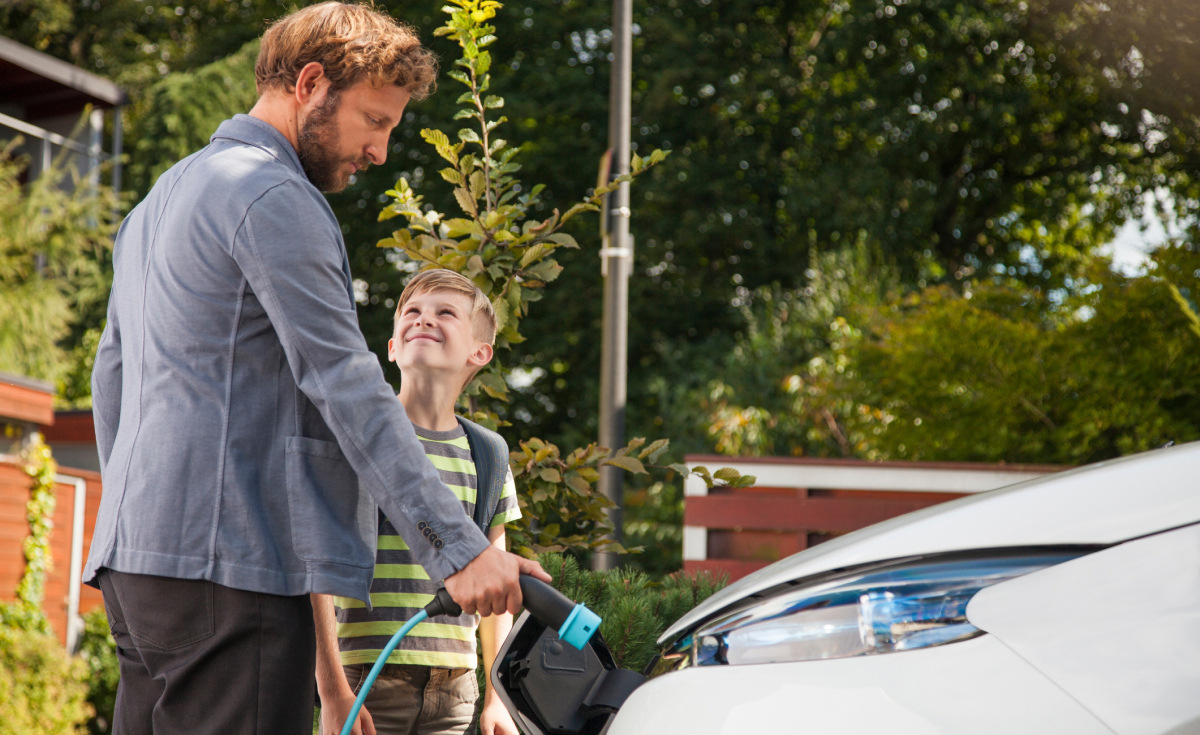 Interesting fact: around 70% of electric vehicle drivers do the majority of their charging at home. You've probably seen the increasing number of electric car charge points around the country, but if you're ready to buy then you might have questions about how to charge an electric vehicle at home.
So let's get those burning questions answered, starting with the obvious one.
How do you charge an electric vehicle at home?



There are a few options, but the recommended one is to install a dedicated electric vehicle home charger. This is the fastest option and the beauty of this EV home charging solution is that it can be installed right in your driveway for easy access. EV home chargers are also very affordable at the moment with a grant of up to £350 towards the installation available from the Electric Vehicle Homecharge Scheme (EVHS).

Newer models of these units typically offer smart features that allow you to track your spending and switch the charger on/off remotely, meaning an EV home charger will give you extra information and control, as well as the extra speed.

Can I plug my electric vehicle into a regular outlet?



The short answer is yes, you really can get a cable that plugs directly from a standard three pin plug direct to your electric car. That means EV home charging is as simple as charging any other battery-operated device.

With all that convenience comes a couple of caveats. Charging your electric vehicle through a standard plug is the slowest EV home charging method available. And unless you already have an outdoor plug near your driveway, plugging into a standard socket means running a cable out through an open window or door.

It's also important to point out that this method is not recommended as your primary home car charging point because standard sockets are not ideally suited to supplying high levels of power for a long time. Extension reels or cables should not be used at all, as they are not intended to carry full rated current for lengthy periods and can overheat.

Where can I install an EV home charger?



The actual installation of your new home charger will need to be performed by a registered installer, who can assess your property and help you to decide the ideal location.

The EV home charger itself can be mounted on a wall in your driveway or on a wall on your house, so there are two key considerations here; distance to your car and the location of your electricity meter and fuse box. The greater the distance between the fuse box and the charger, the greater the cost to have the charger installed.

Your car's home charger needs to be connected to your standard electricity setup so having your meter and fuse box near where you park your car will keep things simple. If your house isn't set up that way, you can still get an EV home charger, but setup will take a little more work. The installer can supply the full details on what is needed to carry out the installation.

The standard charging cable used for electric car home charging is 5 metres (16'3") in length, which should be more than enough for garage, carport, or short driveway use. Longer cables and extensions for your existing cables are available if you need to reach a little further.

What about that electric vehicle home charger grant?



If you're seriously thinking of getting a home charging point for your electric vehicle, you need to know about the Electric Vehicle Homecharge Scheme (EVHS) . This grant is designed to help people who want to change their electric vehicles at home, by providing EV drivers with a 75% contribution to the cost of one EV charge point and its installation.

The main requirement is that you own, lease, or have ordered a qualifying electric vehicle and have dedicated off-street parking at your property. You may apply for two home electric car charge points at the same property if you have two qualifying electric vehicles.

How does the Electric Vehicle Homecharge Scheme work?

You choose an Electric Vehicle Home Scheme installer (EVHS) to install your home charger. The EVHS installer checks that you qualify and then applies for the scheme on your behalf. The installer will bill you for the price of the installation, less the grant amount they have applied for. If the application is successful, the installer will be paid the grant amount that they have offset from your bill.

The Office for Zero Emission Vehicles (OZEV) aims to process claims for experienced installers within 30 working days - You can find out more information on Electric Vehicle Home Scheme here.

Okay, so how long does it take to charge an electric car?



It depends on your electric vehicle and where you're doing the charging.

The quickest option is through the electric public charging network, a fast charger will get you from 0-80% in around 30 minutes which is mainly used for topping up your battery when you are out on a long journey.

For a 40kW battery a typical 7kW home car charging point will charge an electric car from 0-100% over the course of around 3-5 hours.

For electric vehicles with battery capacities over 60kW the charging time will be in the region of 6-8 hours.

As mentioned above, you do also have the option to use a 'trickle charger' plugged into a standard socket, that will generally take 18 hours or more.

And, how much does it cost to charge an electric vehicle at home?



That depends on when and where you charge the electric vehicle. We recommend charging at home to give you the best value. On the current ESB Energy rate, charging a Hyundai Kona from 0-100% would cost around £5.52. That car has a WLTP range of 449km, so if you drive an average of 20km per day you would get a little over 22 days of driving from that £5.

Charging at home is the most convenient and cost-effective way to charge an electric car, especially if you stick to charging at night. Most of all, it will give you peace of mind. With an electric car and an electric car home charger you will never have to leave the house with less than a full tank.

Charging your electric vehicle on the go

There are over 20,000 rapid charge points across the UK, across 11,000 locations. ESB Energy has over 140 across London, Coventry and Birmingham, you view our real time charge point map, showing the location and availability of our chargers here.

Ready to start charging at home?
Want to learn more about ESB Energy's public electric vehicle charging network? Visit our EV homepage here.