UK first as "Go Electric Taxi" scheme launched in Coventry, the home of the black cab
5 September, 2018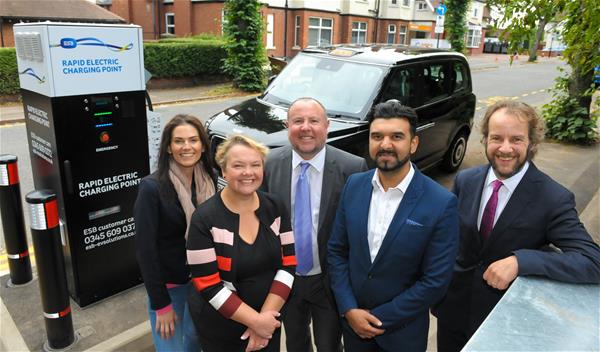 Coventry City Council has today launched a unique scheme to encourage cab drivers to move to electric vehicles.
Coventry's "Go Electric Taxi" scheme is supported by LEVC, the Irish energy company ESB, Siemens and taxi app Gett and forms part of an ambitious programme to move towards an electrically-driven taxi fleet in the city.
The initiative includes extended test drives, a £2,500 incentive for the first electric taxi orders, free electric charging during the trial and zero commission fares on taxi app bookings.
To ensure that drivers who can't charge at home can benefit from the lower fuel costs of electric vehicle ownership, it was also announced that the first six of 39 rapid charge points have been installed by ESB and Siemens.
The scheme is funded by money from the Office of Low Emission Vehicles, the DEFRA's Air Quality fund as well as the companies supporting the project.
The new electric taxis loan scheme and charging points are part of a city-wide drive to cut air pollution and has the backing of the Council and Joint Air Quality Unit.
The UK's most extensive programme for encouraging taxi drivers to upgrade to an electric vehicle is being launched in Coventry today.
The Go Electric Taxi scheme includes a range of different incentives worth £2,500 for taxi drivers interested in making the switch to a cleaner vehicle – as well as the opportunity for a two-week test drive for all Coventry Hackney cab drivers.
The initiative, led by Coventry City Council, is supported by a range of companies including, the Coventry electric taxi maker LEVC, Irish energy company ESB, Siemens and the taxi app Gett.
Hackney carriage owners in Coventry will be getting the chance to try out the latest electric cabs produced by LEVC, as part of a scheme to encourage cabbies to understand more about the benefits of electric taxis.
An event this Wednesday (5 September), at Coventry railway station, has been organised to enable Coventry cabbies to take a closer look at the new state-of-the-art TX Electric Taxi, and sign up to a 12 day loan scheme.
Go Electric Taxi aims to speed up the modernisation of the Coventry taxi fleet and offer a premium, better value, service for Coventarians. All these vehicles will offer laptop charging, mobile phone charging, free wifi, card payment – and zero emission capable driving.
Two thirds of Coventry residents have already said that they would specifically choose an electric taxi, if given the option.
Cllr Kamran Caan, the Council's Cabinet Member for Public Health and Sport said that in future year's electric vehicles would be the norm.
He added: "We are committed to cutting air pollution in Coventry because we know that this will bring health benefits to people particularly vulnerable residents with pre-existing health conditions.
"Electric vehicles are the future both nationally and globally. I hope that Hackney cab drivers will take the opportunity to try out the loan scheme. The vehicles are built locally – and the numbers of charging points are increasing all of the time."
As part of the scheme, the first 60 drivers of electric taxis in the city will benefit from a significant contribution towards their insurance costs, as well as a waiver of several licensing fees, this is valued at around £2,500. The scheme has been funded by grants from the Office of Low Emission Vehicles and the Government's Joint Air Quality Unit.
Jesse Norman, Minister for Roads and the Future of Mobility said: "Britain's black cabs are iconic around the world. That is why the Government is supporting this initiative with £1.2 million, helping Coventry to champion these new electric models.
"The Government is committed to improving the country's air quality and creating a low carbon economy, which is already worth billions. Low emission vehicles will be a key part of that transition, showing that we can meet our climate change obligations and also promote economic growth."
Among those at the event will be Kartar Sabraiwal, aged 59 who has purchased one of the new TX models, his 6th Coventry taxi. Mr Sabraiwal said that he made the investment because it would slash his fuel bills and said that it would help him make financial savings in the future as well as improve air quality.
Mr Sabraiwal covers 70 - 100 miles a day and estimates he will save £400 a month from making the switch. He added: "Electric vehicles are the future – and will mean a smoother, more pleasant ride for my passengers as well as helping clean up Coventry's air. The fact I will be financially better off from making the switch is also a big bonus."
In addition, the project aims to tackle some of the biggest barriers to EV uptake – which includes lack of familiarity with technology and concerns about EV charging infrastructure. In order to boost understanding of EV technology amongst cab drivers, the scheme will see four LEVC TXs used as extended test drive vehicles – offering Coventry cab drivers a chance to see how an electric vehicle could fit in with their working habits.
Chris Gubbey, CEO of LEVC, said: "Coventry has always been the home of the black cab and this new scheme will ensure that Coventry's taxi sector has one of the most modern, customer-centric fleets in the UK. These extended trials will give drivers a chance to get comfortable with our proven EV technology and see how much the vehicle delights passengers."
LEVC has been producing the TX eCity at its £325m Coventry factory since the start of the year, although most of its vehicles have been sold in London to date. LEVC currently employs around 800 people in the city, and as production ramps up will employ around 1,500 people.
Alongside the launch of the Go Electric Taxi scheme, it was also announced that ESB and Siemens have won the contract to provide rapid charging infrastructure for all electric vehicle drivers in the Coventry. Siemens and ESB are installing and operating 39 rapid charging points across Coventry. So far, six rapid chargers have been installed by ESB, and it is intended that these sites will be augmented by the creation of several EV rapid charging hubs in the city. It forms part of an Ultra-Low Emission Vehicle Infrastructure Scheme.
Gareth Davis, Head of EV Solutions, ESB said: "We look forward to working with Coventry City Council and all major stakeholders in the home of the British automotive industry on this ground-breaking project. ESB and Siemens will set the highest standards of customer services, safety, quality and reliability, and we look forward to supporting Coventry and all of its citizens as they transition to sustainable, low-carbon motoring."
Under this initiative, the rapid charging network in the City will be funded by both the UK Office of Low Emission Vehicles (OLEV) and investment by ESB. Siemens will supply and maintain the multi-standard rapid charging units. All rapid charging points in Coventry and across the wider ESB EV Solutions Network use 100% renewable electricity and charging at these units will be free for trial participants.
Finally - all new electric cabbies can benefit from zero commission on all fares taken with Gett taxi App for the first six months (sign up is free). Meaning that the new cabs will be turning up for lucky customers of the Gett app in Coventry.
Matteo De Renzi, CEO UK of Gett said: "We're proud to be working with Coventry's newly introduced electric taxi scheme. It is important for cities to encourage drivers to move to electric vehicles in order to improve air quality. At Gett, we work hard to offer the best quality service and we look forward to welcoming more drivers of the TXE onto Gett and seeing how much our customers in Coventry love it."
Ends
About ESB's EV Solutions
We're part of ESB, Ireland's largest energy company with 90 years' experience in the electricity sector. ESB is leading Ireland's transition to a low carbon energy future through the electrification of heat and transport, creating a brighter future for all.
ESB developed one of the first fully interoperable charge point networks in Europe, comprising of almost 1,100 public charge points across the island of Ireland. ESB has been a leading independent generator in the UK for more than 23 years and has invested almost £2bn in generation and power network assets. This year ESB Energy was launched in Britain, offering very competitive electricity and gas offerings to residential customers.
About LEVC
LEVC (formerly the London Taxi Company) manufactures the world's only purpose-built, range extended electric taxi. We have built the iconic London taxi in Coventry for almost 70 years, and our new electric taxi draws on these decades of automotive heritage. This is intended to be our most passenger focused vehicle yet, with a host of premium features.
LEVC's advanced new taxi is manufactured at our new facility in Coventry, England and the project is supported by a £325m investment from our parent company Geely. The business will also be releasing a range extended electric van, using the same technology, next year.
About Siemens
Siemens AG (Berlin and Munich) is a global technology powerhouse that has stood for engineering excellence, innovation, quality, reliability and internationality for 170 years. The company is active around the globe, focusing on the areas of electrification, automation and digitalization. One of the world's largest producers of energy-efficient, resource-saving technologies, Siemens is a leading supplier of efficient power generation and power transmission solutions and a pioneer in infrastructure solutions as well as automation, drive and software solutions for industry. With its publicly listed subsidiary Siemens Healthineers AG, the company is also a leading provider of medical imaging equipment – such as computed tomography and magnetic resonance imaging systems – and a leader in laboratory diagnostics as well as clinical IT. In fiscal 2017, which ended on September 30, 2017, Siemens generated revenue of €83.0 billion and net income of €6.2 billion. At the end of September 2017, the company had around 377,000 employees worldwide.
About Gett
Gett - Driven by Quality. Gett is a global ride hailing app built on a simple idea – if you treat drivers better, they will treat riders better. Fuelled by the best drivers, Gett sets the standard for quality.
Gett is already in more than 100 cities across Europe and the US. In London alone, nearly half of all black cabs run on Gett. In NYC, it's the fastest growing ride sharing app, and on-track to become the second-largest player in that market.
Gett is also the global leader in business ground travel, trusted by over 7,000 leading corporations worldwide. Gett has raised over $700 million in funding and was selected by Forbes as one of the "top 15 explosively growing companies".