Majority of Londoners would choose electric taxis over diesel taxis
25 July, 2018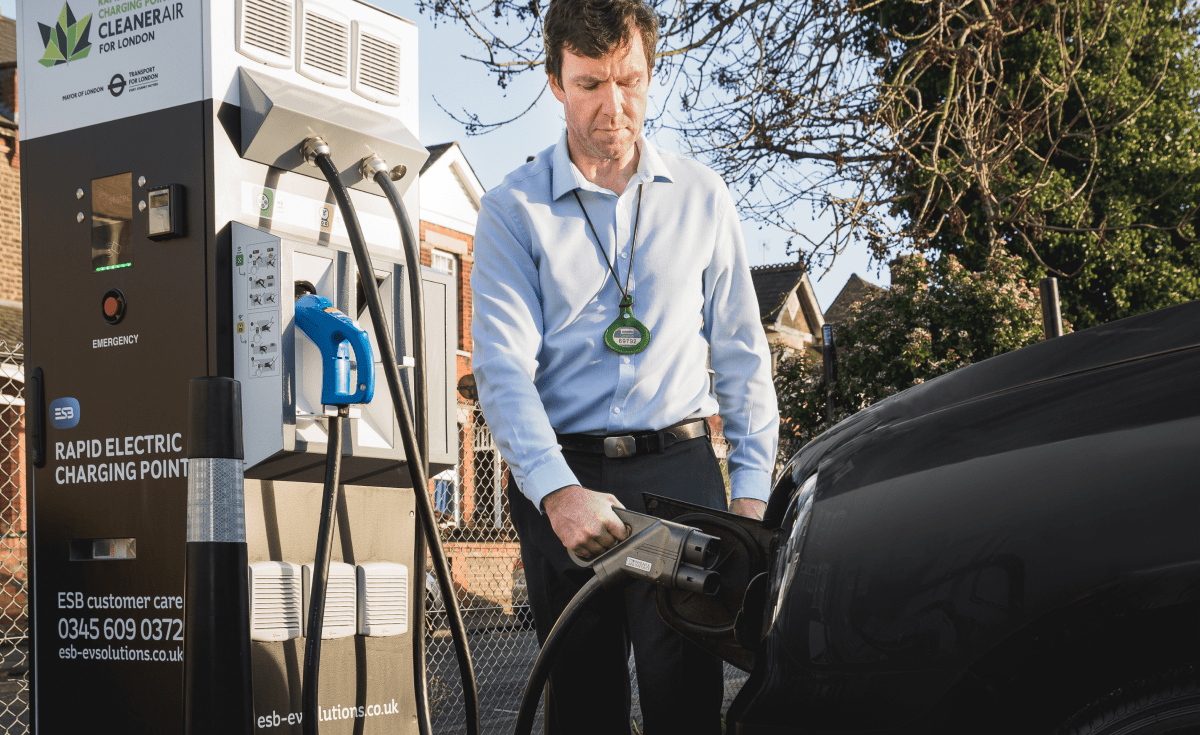 Research from ESB's EV Solutions has found that if given the choice between a diesel and an electric black taxi, 50% of Londoners would actively choose the electrically powered vehicle with only 14% opting for the diesel.

ESB's EV Solutions is actively investing in the electric vehicle (EV) infrastructure in London and has already installed 32 EV rapid charging point across London with plans to expand the network in the coming months. ESB developed one of the first fully interoperable EV charging networks in Europe, comprising of almost 1,100 public charge points across the island of Ireland.
As the drive to make London a greener city accelerates, a representative survey conducted for ESB's EV Solutions amongst 1,000 Londoners has found that the majority would choose an electric black taxi over a diesel black taxi. This finding provides further evidence that Londoners are getting behind the vision for electric vehicles in the capital.
The research follows new data from the Department for Transport which revealed 53,000 low emission vehicles were registered in the UK in 2017, an increase of 27% on the previous year. Of these vehicles, 35% are electric, meaning around 18,550 EVs were registered in 2017.
To increase the necessary electric vehicle (EV) infrastructure needed to support this growth in EV use, ESB, Ireland's largest energy company, is actively investing in a programme to increase its rapid EV charge points in London. This follows the company's selection as a rapid charging provider by Transport for London (TfL) in 2017.
Thirty two ESB rapid chargers have already been installed in locations across London, with plans to grow the network in the coming months, which will be available for use by the public and taxi drivers. This significant investment in EV infrastructure will play a vital role in encouraging EV use throughout the city, helping to significantly reduce CO2 emissions and improve London's air quality. This programme is a key part of ESB's commitment to creating a low-carbon future through the electrification of transport.
ESB's rapid charging points provide an 80% charge, using 100% renewable electricity, in as little as 30 minutes and at a fraction of the cost of diesel. This is comparative to three to four hours when using a standard unit. Taxi and EV drivers are able to find the closest ESB rapid charger on our real time charge point map online or through the "EV Plug In" app for smartphones.
Gareth Davis, Head of EV Solutions, ESB said: "We are investing to roll out rapid electric vehicle charging infrastructure in London and our research shows that Londoners are clearly embracing the introduction of electric taxis in an attempt to consciously reduce emissions. We are proud to bring our expertise and knowledge in developing charge point networks to this initiative and in doing so help improve London's air quality through the electrification of transport."
Deputy Mayor for Environment and Energy, Shirley Rodrigues, said: "The roll-out of electric taxis is a major step forward in the shift to zero-emission vehicles in London, which we desperately need to clean up our toxic air. Evidently, Londoners are behind our world-famous trade going green. With more than 100 rapid charge points across the capital – around half of which are dedicated to taxis – and financial support from the Mayor, this research offers further assurance for drivers ready to make the switch to electric vehicles."
Chris Gubbey, CEO for LEVC said: "These findings mirror our own internal research that shows Londoners want to use the latest technology to travel around their city. For this reason, we have developed the world's most advanced electric taxi with world-class autonomous safety systems to protect both occupants and other road users. The first drivers and passengers are delighted with the smoother, quieter ride but, to boost uptake, there needs to be confidence that provision of charging facilities will continue to grow – making ESB's level of investment in London extremely welcome."

Steve McNamara, General Secretary of the Licensed Taxi Drivers' Association, said: "With over 250 electric black cabs already on London's streets, the black cab trade is proud to lead the charge towards a cleaner, greener London. Cabbies who buy new electric cabs must be able to access rapid electric charge points across the city to help keep London moving. It's great to see ESB working hard to put more of these charge points in the ground".