7 May, 2020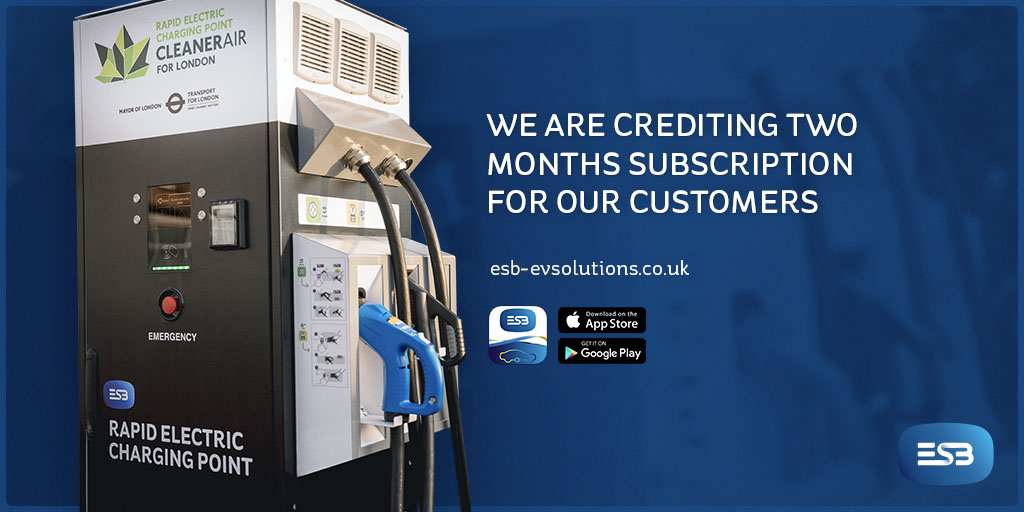 In light of Covid-19 travel restrictions in place, ESB EV Solutions is aware that EV drivers are not using our charging network in the same way. To support drivers during these unprecedented times and to applaud the efforts of everyone to stay at home, we are crediting the subscription charges for April and May for those customers on our monthly subscription plan. There will be no change to the per kWh rates.
The ESB EV Solutions charging network continues to operate as normal and our customer care line is available 24/7 on 0345 609 0372 to answer any queries you may have.
We encourage everyone to continue to stay home, stay safe and adhere to the NHS guidelines on social distancing and hand hygiene.
Who does this apply to?
This offer applies to all customers who pay a £4 monthly subscription charge as part of their price plan, including those who sign-up for the first time or join our monthly subscription plan during May.
How does it work?
Eligible customers will receive a credit on their account to offset the cost of the monthly subscription charge. Those on the monthly subscription plan on or before April 30th will receive a credit of £8, i.e. equivalent to the subscription charges for April and May, and those who sign-up for or join the monthly subscription plan during May will receive a credit equivalent to the subscription charge for May i.e. £4.
Does this mean I can charge my EV for free?
The offer applies to subscription charges only. All per kWh rates remain as published.
For further queries please email support@esb-evsolutions.co.uk or call our 24/7 customer care line on 0345 609 0372.