28th June, 2022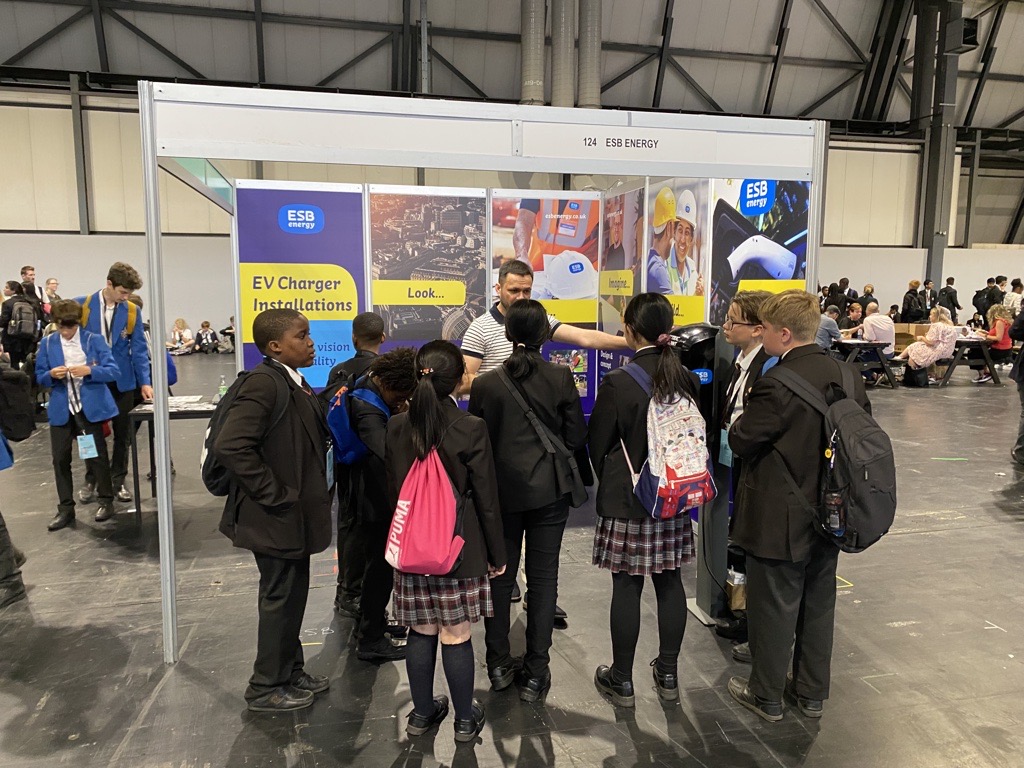 As part of ESB Energy's partnership with Birmingham City Council, we are getting involved in local projects in the area.
ESB Energy is committed to delivering career development STEM and Zero Carbon Future events in conjunction with local educational bodies across Birmingham and recently exhibited at the annual Big Bang Fair, at the NEC, Birmingham.
The Big Bang Fair is the UK's largest annual STEM celebration for young people and is open to 11–14-year-old students. It is an opportunity for students to get inspired by the world of science and engineering, and encourage them to connect with inspiring role models in STEM.
At the event, we taught students about the different career pathways into ESB Energy and highlighted various STEM careers that are involved in the lifecycle of an EV Charger Installation, from concept all the way to commissioning. We also demonstrated one of our very own ESB Energy chargers at our stand!
The Big Bang Fair took place in the NEC Birmingham, from 22nd-24th June 2022.
Brian Carroll, Head of Business Development, ESB Energy said, "We are really passionate about getting involved in the communities in which we work. It was great to meet local students and explain the process of how we install chargers by putting our STEM learnings into practice. Hopefully it has given students food for thought of some of the types of jobs that are available in the STEM area".

ESB Energy and Birmingham City Council have developed a city-wide EV charge point strategy to ensure that residents, taxi-drivers, commercial fleets, and visitors to the city have access to a convenient charge point when they choose to go electric. Part of this strategy is to roll out an initial network of over 394 fast and rapid charge points (almost 200 chargers), all powered by 100% renewable energy. ESB Energy now has 108 charge points (54 chargers) live in Birmingham- with a lot more to come.
To keep up to date on our latest installations, or to view the location of all our chargers, follow us on Twitter, check out our Charge Point Map or download our EV Plug In app.
For more information on the Big Bang Fair, please visit: The Big Bang Fair UK