ESB Energy launch electric vehicle charge points at Sutton Park
22ND AUG 2023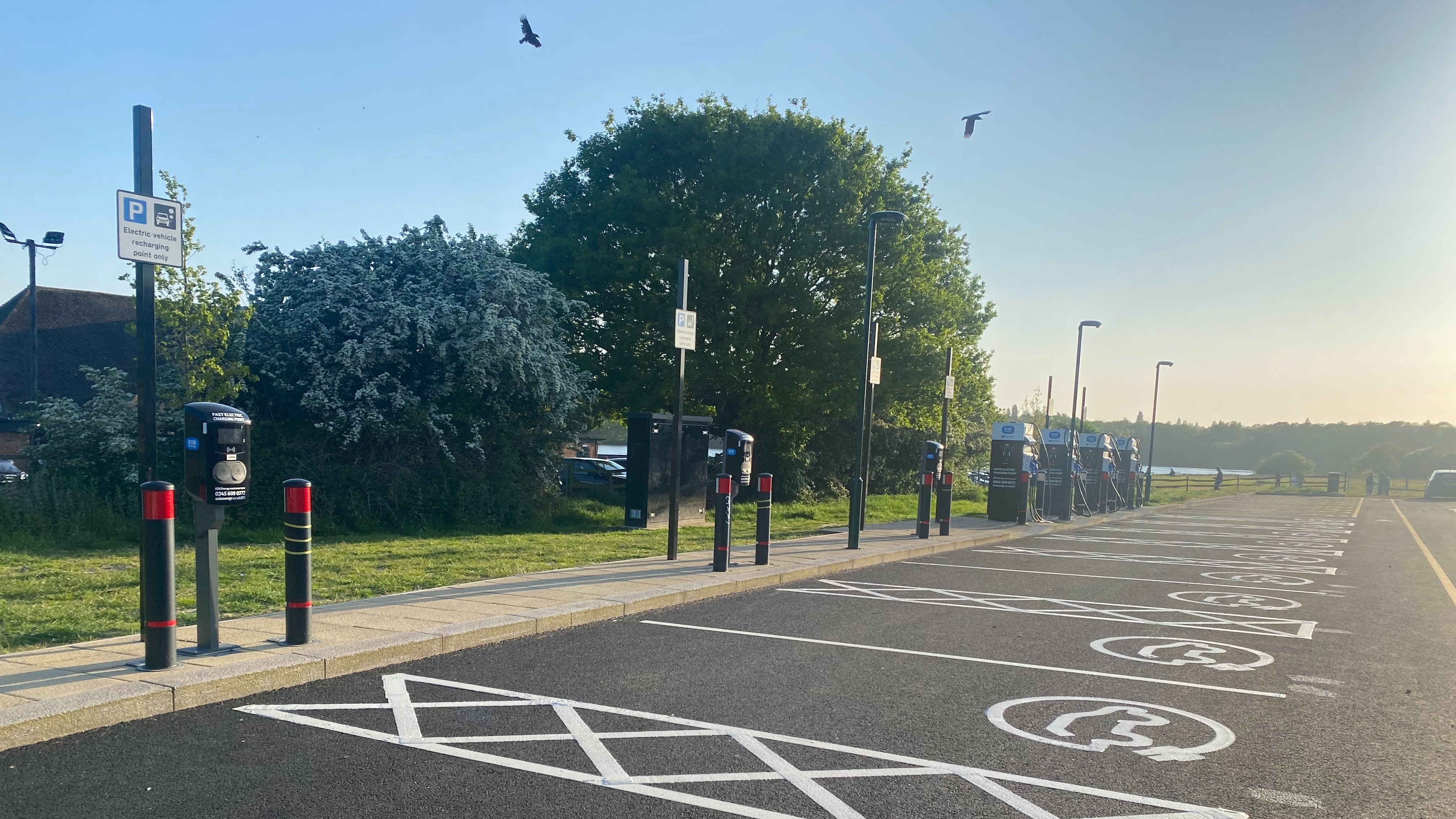 Rapid electric vehicle charging technology – which enables a car to be fully charged in just 30 minutes – is now available at Sutton Park as a direct legacy benefit of the site being a Proud Host Venue for the Birmingham 2022 Commonwealth Games.
The charging points have been installed at the car park at Boldmere Gate, upgraded and fitted out with new power infrastructure as part of a £1million investment to enable it to act as the transition area for athletes competing in the Triathlon and Para Triathlon events last summer.
In total, ten charging bays have been provided through the scheme, which would not have been as easy to deliver if it were not for the Games coming to the city.
As well as the four 50kw rapid chargers, there are a further three 22kw fast chargers that each have two charge points (serving two vehicles at a time) – which can fully charge a vehicle in between two and four hours (dependent on the vehicle's battery).
The charge points can be used either as a pay-as-you-go or through monthly membership, and are available during standard park opening hours.
Cllr Liz Clements, Cabinet Member for Transport at Birmingham City Council, said: "This is a flagship site for the technology we are rolling at pace across the city on the highway, in public car parks, train station park & ride car parks and other local parks across the city.
"Electric vehicles are becoming more and more common with each passing day, so it is vital we get charging points installed at locations in all parts of Birmingham, so the option of going electric is more viable for motorists.
"It's great that we have been able to utilise the infrastructure from the Commonwealth Games in this way – and I know the points will be of great value in the years to come."
All of the EV chargers use 100 per cent renewable energy, and the wider work to make the site Games ready also means other future major events can be staged at the location without the need for temporary infrastructure and power sources - acting as a boost to the city's ambitions on the Route to Net Zero carbon emissions.
The much-improved accessible car park was designed by the council in partnership with statutory bodies Natural England and Historic England as well as Sutton Park Advisory Committee.
Cllr Majid Mahmood, Cabinet Member for Environment at Birmingham City Council, said: "It's vital that we provide motorists with the ability to make the transition to electric vehicles if we are to realise our goals to become a city with net zero carbon emissions.
"Our parks are one of Birmingham's greatest assets, with Sutton Park an incredibly popular location for visitors, so I know the charging points here will be warmly welcomed.
"We said that being Proud Host City for Birmingham 2022 was about much more than just 11 days of fantastic sporting action. Projects like this show how there is a genuine and long-lasting legacy from our bold ambition in bidding for, and ultimately hosting, the Games."
The EV charging points are funded through a combination of the Government OZEV (Office for Zero Emission Vehicles) £2.929million grant secured by the council to roll out a city-wide network of fast (22kw) and rapid (50kw-100kw) charge points, and partnership funding from ESB Energy (the council's procured EV Network Delivery Partner).
George Rathborne, Infrastructure Delivery Manager ESB Ecars, said: ''On behalf of ESB Energy, I am delighted to launch our new multi charging hub at Sutton Park which consists of four rapid and three fast EV chargers.
"This site forms part of a wider partnership with Birmingham City Council to provide a comprehensive public charging network for electric vehicle drivers throughout the city consisting of 197 fast and rapid chargers which equates to 394 chargepoints, over half of which are already operational.
"We know the huge benefit that EV infrastructure plays in helping build a sustainable future for cities. We look forward to our continued support of Birmingham and all of its citizens as they transition to low carbon motoring."