Turn your ESOS Report into a sustainable energy plan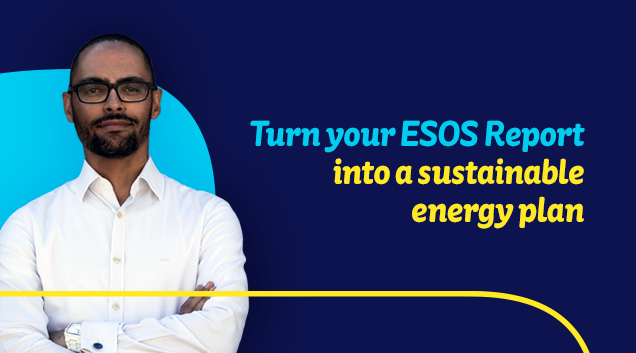 COP26 has shone a spotlight on global decarbonisation objectives set by independent nations. However, even before COP26 took place, large industrial energy demand users already had to comply with the Energy Savings Opportunity Scheme (ESOS). ESOS is a mandatory energy assessment for large organisations in the UK designed to encourage large businesses to implement energy saving measures and contribute to the UK's overall carbon reduction commitments. It requires businesses who qualify for ESOS to conduct an energy assessment across their operations once every four years and to identify cost-effective, energy saving measures.
Who must comply?
ESOS only applies to companies considered "Large UK undertakings". This means businesses, non-profit bodies and other private sector organisations that meet the following criteria:
Employs 250 or more people
Has an annual turnover more than £44 million, and an annual balance sheet total in excess of £38 million.
How does the scheme work?
An external auditor from an approved professional body register will be required to review and assess your organisations energy usage using a period of 12 months of data. This is so that they can find out how your organisation is using energy, and more importantly where it is wasting energy. Based on the findings of the Lead Assessor, a list of recommendations will then be created for your organisation. These recommendations are envisaged as a means of reducing the carbon footprint of the site in question; and can range from cavity-wall insulation, LED lighting, and onsite generation.
How can ESB Energy help?
ESB Energy Business Solutions has a proven track record in helping large energy users reduce their carbon emissions and energy costs. We can help you turn your ESOS report into a concrete action plan that will be balance sheet neutral, thanks to our tailored funding solutions. Our team of energy experts can help your business implement the energy-saving opportunities identified by the ESOS audit with minimal capital expenditure required on your part thanks to our £75m decarbonisation fund.
We partner with large energy users across the UK to identify and implement sustainable solutions that dramatically reduce their energy costs and carbon emissions. We typically deliver savings of up to 60% - across a broad range of industry sectors.
And equally important, we fund their energy solutions in a way that greatly reduces their need for major capital expenditure. The net effect is that you get to implement the green energy solutions outlined through your ESOS report – in a way that makes minimal capital demands on your business.
Lebona Vernon
Speak to our team of energy experts today to find out how we can help turn your ESOS report into a concrete and affordable action plan.